CPAs and tax professionals have a unique advantage that the average financial advisor envies – that unique advantage is their tax knowledge and their network of clients. As a tax professional, your clients trust you to provide you with their most valuable information in order to complete their tax return. With this information at your fingertips, you have the distinct privilege to take your association with your clients and evolve it into deeper, more meaningful relationships that ultimately result in more holistic services for your clients' financial well-being, client retention, referrals, and increased satisfaction.
According to a 2015 survey conducted by SourceMedia (publisher of Accounting Today), your peers are enhancing client experience by adding financial services alongside their practices – perhaps you should too.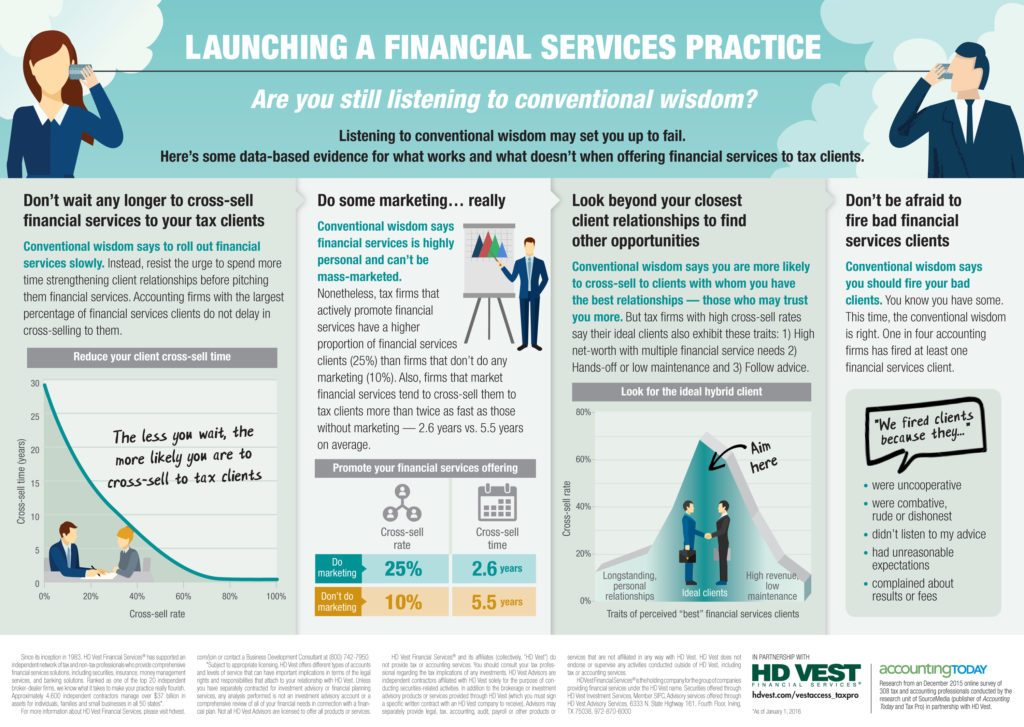 Download "Making a Financial Services Offering Work In Your Practice" Whitepaper
HD Vest Financial Services® is the holding company for the group of companies providing financial services under the HD Vest name.
Securities offered through HD Vest Investment ServicesSM, Member SIPC
Advisory Services offered through HD Vest Advisory ServicesSM
6333 N. State Highway 161, Fourth Floor, Irving, TX 75038 | (972) 870-6000
HD Vest Financial Services and its affiliates (collectively, "HD Vest, Inc.") do not provide legal, tax or accounting services. You should consult your tax and legal professional regarding the tax and estate planning implications of any investments.